Wednesday, 23 January 2013
It's the feeling you get when you are waiting for news, for the birth of a child, or results of an exam you studied so hard for. You feel it in your stomach, a gnawing, twisting sensation that makes you reach out for something to distract you. Some people excercise (good for your body), some like to shop (not so good for your wallet), and others like to knit (not so good for your ass.)
I'm guilty of the last one (I compensate by power-walking from my car to work every morning.) Ever since I sent my revised manuscript to my agent, I have been knitting. A lot. Oh, I've been reading too, but sometimes the pins-and-needles thing would start up and distract me from my distraction.
So I mostly knit. Here is what I have made so far…
A pair of fingerless mitts for a friend at work. I made these with double point needles but I'm finishing up a second pair using the "magic loop" technique (love!)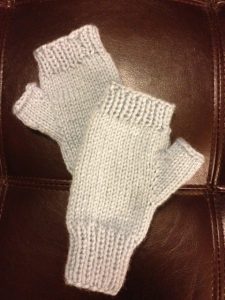 The second pair will be dark gray and is for another friend at work. There are cold hands here in California!
The other project I finished was a Lucy Hat, a pattern from Knitscene Magazine, Special Winter Issue 2012. My daughter agreed to model the hat for me.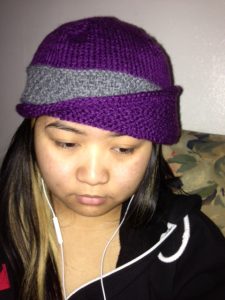 After I finish the second pair of fingerless mitts, I will make socks. Yes! Can't wait!
One great thing knitting does for me is it helps me think. When I'm sitting at my writing desk, staring at the words on the computer screen, stuck on a plot point or how to make a particular scene stronger, I pick up my knitting and think through it until I get that "aha" momment. It works for me about 90% of the time. I also like to brainstorm for my next book project while I knit.
Speaking of my next project, I need to get cracking and my knitting needles clicking! Pins-and-needles be damned!
Seriously though, I am so grateful that I have my knitting to keep me company and to help me cope with all the waiting that comes with the business of publishing. It feeds the fire of my need to create, to make something I can share with others. Most importantly, it keeps me writing.
Till next time.